Riding your bike at night just got a whole lot brighter with the Magicshine Monteer 12,000 lumen front light.
Magicshine has proudly unveiled its latest marvel in illumination technology: the Monteer 12000. Crafted for avid cyclists who demand the very best, this lighting masterpiece takes your night rides to a whole new level.
Fall is here, and with it comes a seasonal shift that might make some cyclists stow away their bikes until spring. But what if we told you that the thrill of cycling doesn't have to hibernate with the changing seasons? The key to extending your cycling adventures well into the night lies in finding the perfect illumination, and the Magicshine Monteer 12000 is undoubtedly the right light for the job.
Designed for top-speed nighttime riding on and off the road, this exceptional bike light combines advanced technology and impressive specifications to enhance your riding experience. Whether you're navigating urban traffic or tackling challenging, pitch-black trails the Monteer 12000 promises to turn darkness into day.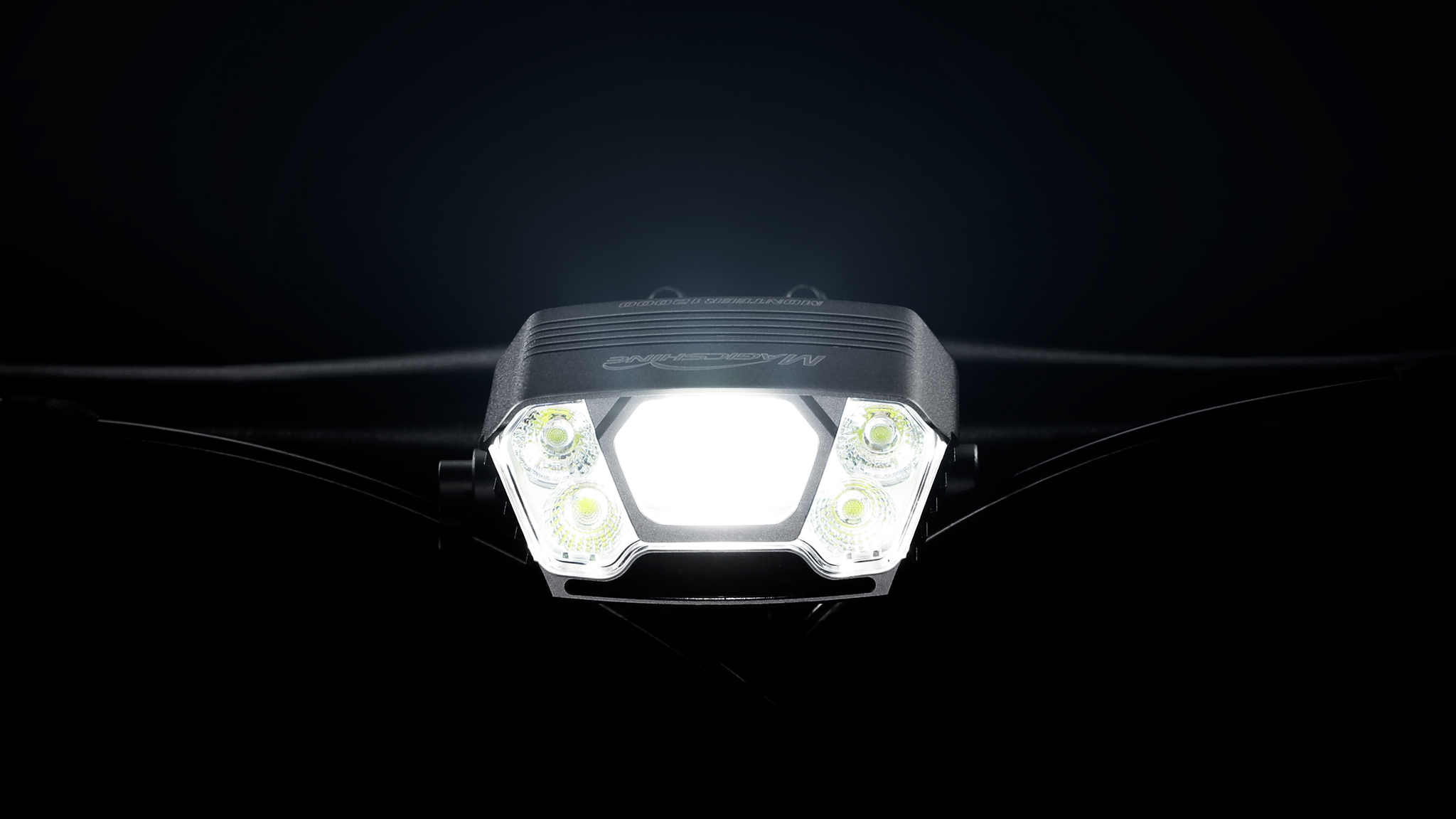 Magicshine: Craftsmanship Beyond Brightness
Anyone can create a blindingly bright light, but Magicshine elevates their art with precision and intelligence. The Monteer 12000 is a testament to this expertise. Despite its immense power, there's no overexposed glare or excessively illuminated objects. The beam spreads evenly, leaving no detail in the dark without causing discomfort. Its gentle and soft hue is easy on the eyes, so you won't feel like you're staring into the sun. The light's even spread creates brilliant on-trail context, boosting your confidence and enhancing your night ride experience.
The Power of 12,000 Lumens
With not one, not two, but five LEDs, this powerhouse of a bike light boasts an astonishing 12,000 lumens of brilliance. It's like having your own personal sun on your handlebars, lighting up your path with an intensity that reveals every twist and turn.
Two Beams, One Companion
But it's not just about raw power; it's about control and precision, and the Monteer 12000 is all about versatility. On city streets, it offers a glare-free floodlight beam with a meticulously calibrated cut-off line, ensuring your ride is safe and comfortable for both you and oncoming traffic. But venture onto challenging trails, and the spotlight beam with its four lens angles takes centre stage; illuminating your path with a range that extends up to an astonishing 360 meters. This isn't just raw power; it's intelligent design that adapts to your needs.
Built to Last
The Monteer 12,000 doesn't just shine in terms of lighting performance. With its robust one-piece seamless aluminum housing, it's built to last. Able to withstand shocks, dust, water, it's prepared for whatever the elements throw at it. Its IPX6 waterproof rating ensures it can handle heavy rain conditions without a hitch.
Cool, Calm, and Collected
At the heart of this exceptional performance is an innovative physical air duct cooling system, complemented by internal thermal management and enhanced by cooling fins. The cooling fins increase the surface area available for heat to dissipate, while the dedicated air ducts bring in cool air at the front to prevent overheating even during the most intense rides. All of these features work together seamlessly to keep the light cool, even when you're pushing it to the limit.
Battery: The Hero Behind the Scenes:
A hero is only as good as their sidekick, and in this story, the 14.4V 10,000mAh battery pack plays that role to perfection. It's the backbone of your adventure, offering an impressive runtime of 121 hours. Plus, it's no slouch when it comes to multitasking; it supports USB-C PD fast charging and discharging, so you can recharge your battery in a flash or power up your gadgets while you ride.
The Quick Charge Trick
Sometimes, adventure can't wait. That's why the Monteer 12,000 offers the convenience of charging to 100% in as little as 3 hours. In the blink of an eye, you're ready to conquer the night.
Effortless Control
Control is at your fingertips, or rather, on your handlebars. The wireless remote is your magic wand, letting you switch between modes and adjust brightness levels with a simple press. A single click, and you're instantly bathed in the full glory of 12,000 lumens.
Personalized Lighting: Your Ride, Your Rules
In a world that's all about customization, the Monteer 12,000 doesn't disappoint. Connect it with the Magicshine App, and you have the power to personalize your lighting preferences, create new modes, and fine-tune brightness levels to suit your mood.
Just like its predecessor, the Monteer 8000s, the Monteer 12000 is in a league of its own. Magicshine continues to push the boundaries, offering features and performance that the competition can't even come close to. This bike light isn't just another accessory; it's a game-changer for the world of nighttime cycling. Experience the Monteer 12000, and elevate your cycling journey to new heights. It's more than just a bike light; it's the future of illumination, and it's ready to lead you on endless adventures. Don't let the dark days of fall deter you. When it's time to turn your nocturnal rides into epic adventures, the Magicshine Monteer 12000 is the companion you've been waiting for. 
---
Keep Reading