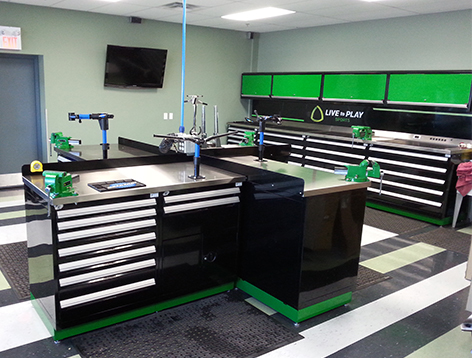 We want you
Live to Play Sports is actively monitoring the progression of the coronavirus, COVID-19, to ensure that we are following updates and procedures from the government and public health. Any offer of employment will be made conditional upon the person providing proof of full COVID-19 vaccination or proof of an applicable exemption under human rights law.
For over 50 years, we have been a leading player in the Canadian and international bicycle market. Starting as a one-man operation in small-town British Columbia, we have always stayed true to our roots, which has helped us grow. We now have three international offices, two distribution centers, and more than 100 dedicated, fantastic staff that contribute to our continued success in the cycling industry.
We work hard, but we ride hard too. At Live to Play Sports, we have bicycle storage, showers, and lockers to encourage riding to, from, and at work. There is almost always someone getting out for a pedal, whether it is road, mountain, dirt jump, or a cruise. If you want to work in a casual environment with a dedicated and passionate culture where people love the outdoors, then we'd love to hear from you.
Live to Play Sports Group Inc is an equal opportunity employer and values diversity. Accommodations are available on request for candidates taking part in all aspects of the selection process. Employment is decided on the basis of qualifications, merit and business need.
Sorry, no jobs available at this time.