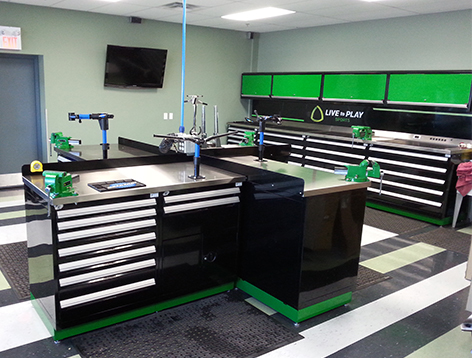 We want you
Depuis plus de cinquante ans, nous sommes l'un des principaux acteurs dans le marché du vélo, tant au Canada qu'à l'étranger. Notre entreprise fut d'abord dirigée par une seule personne dans une petite ville de Colombie-Britannique et nous sommes restés fidèles à cet héritage qui a contribué à nous faire progresser. Nous avons maintenant trois bureaux internationaux, deux centres de distribution et plus d'une centaine d'employés dévoués qui contribuent à notre succès continu dans l'industrie du vélo.
Nous travaillons fort, mais nous roulons tout aussi fort. Chez Live to Play Sports, il y a un espace réservé pour garer nos propres vélos, ainsi qu'une douche et des casiers pour inciter les employés à se rendre au travail sur deux roues. Il y a presque toujours quelqu'un qui est parti rouler quelque part, que ce soit sur la route ou en montagne, pour faire des sauts sur terre battue ou simplement pour une balade. Si vous désirez travailler dans un espace convivial où la culture dévouée et passionnée du vélo réunit des gens qui aiment le plein air, nous aimerions vous connaître.
Live to Play Sports Group Inc est un employeur qui valorise la diversité et favorise l'équité en matière d'emploi. Lors du processus de sélection, des mesures d'adaptation en matière d'accessibilité peuvent être fournies à la demande des candidates et des candidats. Ces derniers sont embauchés en fonction de leurs compétences, du mérite et des besoins de l'entreprise.