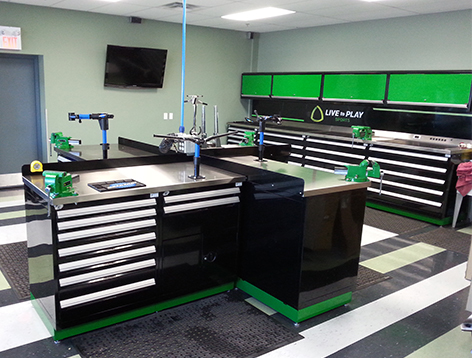 We want you
Depuis plus de cinquante ans, nous sommes l'un des principaux acteurs dans le marché du vélo, tant au Canada qu'à l'étranger. Notre entreprise fut d'abord dirigée par une seule personne dans une petite ville de Colombie-Britannique et nous sommes restés fidèles à cet héritage qui a contribué à nous faire progresser. Nous avons maintenant trois bureaux internationaux, deux centres de distribution et plus d'une centaine d'employés dévoués qui contribuent à notre succès continu dans l'industrie du vélo.
Nous travaillons fort, mais nous roulons tout aussi fort. Chez Live to Play Sports, il y a un espace réservé pour garer nos propres vélos, ainsi qu'une douche et des casiers pour inciter les employés à se rendre au travail sur deux roues. Il y a presque toujours quelqu'un qui est parti rouler quelque part, que ce soit sur la route ou en montagne, pour faire des sauts sur terre battue ou simplement pour une balade. Si vous désirez travailler dans un espace convivial où la culture dévouée et passionnée du vélo réunit des gens qui aiment le plein air, nous aimerions vous connaître.
Live to Play Sports Group Inc est un employeur qui valorise la diversité et favorise l'équité en matière d'emploi. Lors du processus de sélection, des mesures d'adaptation en matière d'accessibilité peuvent être fournies à la demande des candidates et des candidats. Ces derniers sont embauchés en fonction de leurs compétences, du mérite et des besoins de l'entreprise.
Graphic Production Specialist
Lieu de travail: Port Coquitlam Head Office
Tâches principales:
Reporting to the Supervisor, Desk Top Publishing, the Graphic Production Specialist will be responsible for developing, designing, and producing a variety of materials that support the Distribution and Sales activities for a wide range brands for bicycle dealers.
Work directly with brand buyers to build digital and print documents including layouts, brand or product messaging
Prepare layouts and graphic elements creatively and accurately in adherence with established brand guidelines
Refresh existing projects based on feedback received and/or seasonal updates required
Manage image files and product information content on internal data bases including image processing and preparing images for use
Work with Senior Desk Top Publisher to ensure press-ready design files are to spec and error free
Establish and maintain high levels of project execution by effectively managing workload and ensuring projects are completed according to the existing production schedule
Demonstrate ongoing knowledge of graphic industry trends and latest software applications
Communicate effectively and work with minimal supervision both individually and in a team
Qualifications requises:
Degree or diploma in Graphic Design, Graphic Communications, related program or equivalent work experience
3 years recent related experience with a current portfolio
Knowledgeable of the cycling industry
Fluent in current industry software, primarily Adobe Creative Suite (i.e. Illustrator, InDesign, Photoshop, etc.)
Have in-depth knowledge and hands-on experience with graphic design; desktop publishing; workflow competency
A flair for creative visual design tailored to the outdoor, cycling and/or adventure sports
Strong organizational skills with the ability to work in a fast-paced environment with tight deadlines
Solid digital, print production and creative thinking skills
French language an asset
Credit Analyst
Lieu de travail:
Tâches principales:
The Credit Analyst assess and make decisions about customer credit applications using a range of criteria. The Credit Analyst ensures that the credit cycle keeps its natural flow: account opening, collections, order release and reevaluates customers as needed.
Release orders for assigned territories and provide coverage as needed
Collections include contacting customers regarding past due amounts
Respond to phone inquiries
Document all comments in Collection Memos
Daily communication with sales and customer service reps on any issues that may arise
Open new accounts
Work with EDC (insurance) requirements, control limits and any overdue accounts
Paypal, cheques and credit card payment coding for application
Review Aging with Credit Manager
Bi-weekly meetings with Credit Manager and Sales Managers to review accounts
Check PMSI expire dates
Remove all EDC unneeded Credit Limits to avoid charges
Yearly review of Credit limits (under Manager's supervision)
Assist with month end Inventory
Assist with auditor's requests and send out auditor letters
Review and clean out files
Qualifications requises:
2 years minimum of A/R and or Credit/Collections experience preferably in the US market
Post-secondary degree or CCP designation an asset
Ability to negotiate
Proved experience in customer service and/or problem solving
Strong knowledge of Microsoft Excel
Able to work independently and within a team
Positive and open attitude towards continuous improvement
French is an asset
Warehouse Worker
Lieu de travail: Port Coquitlam Head Office
Tâches principales:
Since 1964, Live to Play Sports Inc. has been Canada's leading distributor of premium bicycles, parts and accessories, selling over 80 world-class cycling brands. Live to Play Sports also owns and operates several proprietary brands, including Norco Bicycles and Axiom Cycling Gear. Norco Bicycles is a high-performance brand of choice for cyclists around the world. Our head office and Canadian Distribution Centre is in Port Coquitlam, British Columbia.
We currently have permanent Full-time Warehouse positions in our Port Coquitlam Distribution Centre.
Unload and accurately receive incoming product; includes inspecting for and reporting damage to management
Pick and pack orders according to requirements
Ensure accuracy of order fulfillment and transfers (picking, loading, and shipping)
Complete production orders accurately and safely in a timely manner
Assist with inventory control management and follow strict processes for the handling of all incoming and outgoing shipments
Operating a hi-reach order picker forklift
Assist in the warehouse, general housekeeping, cleaning and general maintenance
Performing other tasks as assigned by management
Qualifications requises:
A minimum of 1 year related experience in shipping or warehouse environment
Forklift experience, preference given to certified operators
Able to work at heights, position requires you to operate a high reach narrow aisle order picker. Full training provided
Ability to work independently without constant direct supervision
Extended time on feet; walking distances up to 200 feet
Manual dexterity and hand to eye coordination for operation of equipment
Frequent stooping, bending, walking, carrying, and lifting (up to 50 lbs)
Strong attention-to-detail
Punctual and dependable
Able to keep up and excel in a fast pace environment
CSA approved steel toe safety footwear required

Only those candidates being considered will be contacted.
Job Type: Full-time
Salary: $18.00 /hour