Crankworx, the world's premier multi-stop mountain biking festival, once again delighted adrenaline junkies and biking enthusiasts with its exhilarating showcases and unforgettable experiences when it returned home to Whistler, BC last week. Held in one of the world's most renowned mountain biking destinations, Crankworx brings together some of the most skilled riders, industry-leading brands, and passionate spectators for an action-packed celebration of all things mountain biking.  
As a proud Canadian distributor of top-tier mountain bike brands, we were beyond thrilled to be a part of this exhilarating event, displaying an exclusive lineup of five exceptional brands: Endura, Topeak, 5DEV, Peaty's, and Yakima.
The event once again lived up to its reputation as a mecca for mountain biking enthusiasts, attracting riders and spectators from all corners of the globe. Our presence at Crankworx was an opportunity to connect with fellow biking enthusiasts and industry leaders. Every day visitors flocked to our brand booths, where we presented the latest and greatest in biking gear, components, accessories, and more.  
5DEV: Elevating Performance, California Style 
At the 5DEV booth, the spotlight was on precision and style. Hailing from San Diego, California, 5DEV wowed attendees with their premium parts, meticulously engineered for lightweight performance without compromising strength. Showcasing an array of machined cranks, chainrings, and featherweight MTB stems, including the all-new Titanium Cranks, colourful Chainrings, and one-piece Stems, visitors were left in awe.
A highlight was the coveted Run CNC t-shirts, turning heads and drawing crowds, as enthusiasts eagerly lined up for a chance to win one: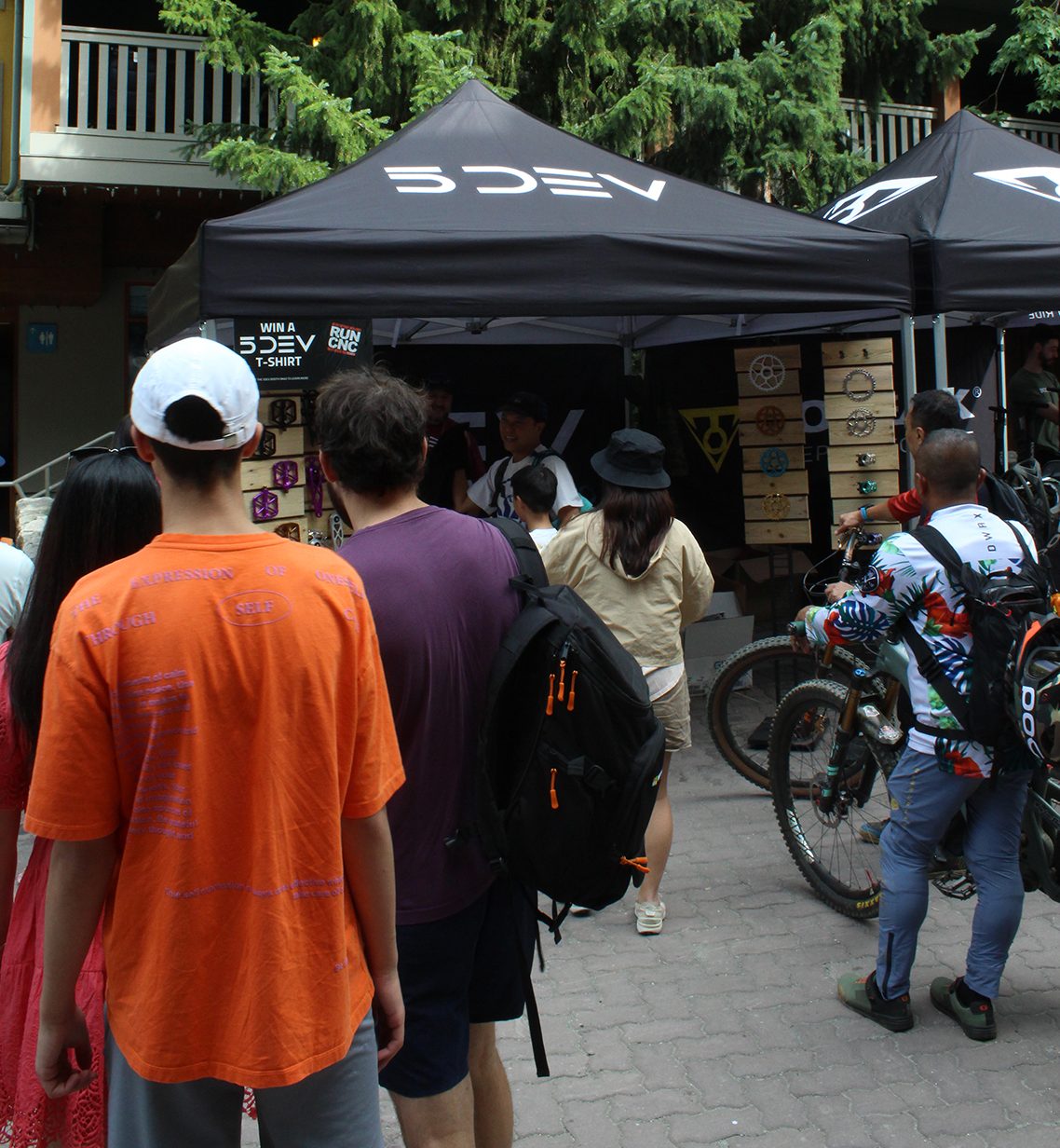 Peaty's: Carrying On a Legendary Legacy
Co-founded by the Crankworx and World Cup DH legend Steve Peat, the Peaty's booth attracted attention with its innovative tubeless solutions and bike care products. The Holeshot BioFibre Tubeless Sealant, a hit for being biodegradable and effective, stole the show.  
The Peaty's art gallery added a creative twist, inviting participants to recreate one of Peaty's iconic designs to take home a package of Peaty's Holeshot BioFibre Tubeless Sealant. The plain white wall turned into a masterpiece battleground, where creativity and hilarity collided!
We're giving gold stars for creativity here, even if some pieces left us wondering if someone was channeling their inner mountain biking muse or just got a little carried away with the Sharpie.
Curious to see some of the artwork that caught our eye? Slide through the photo gallery below for a glimpse of these unique and imaginative Peaty's art renditions: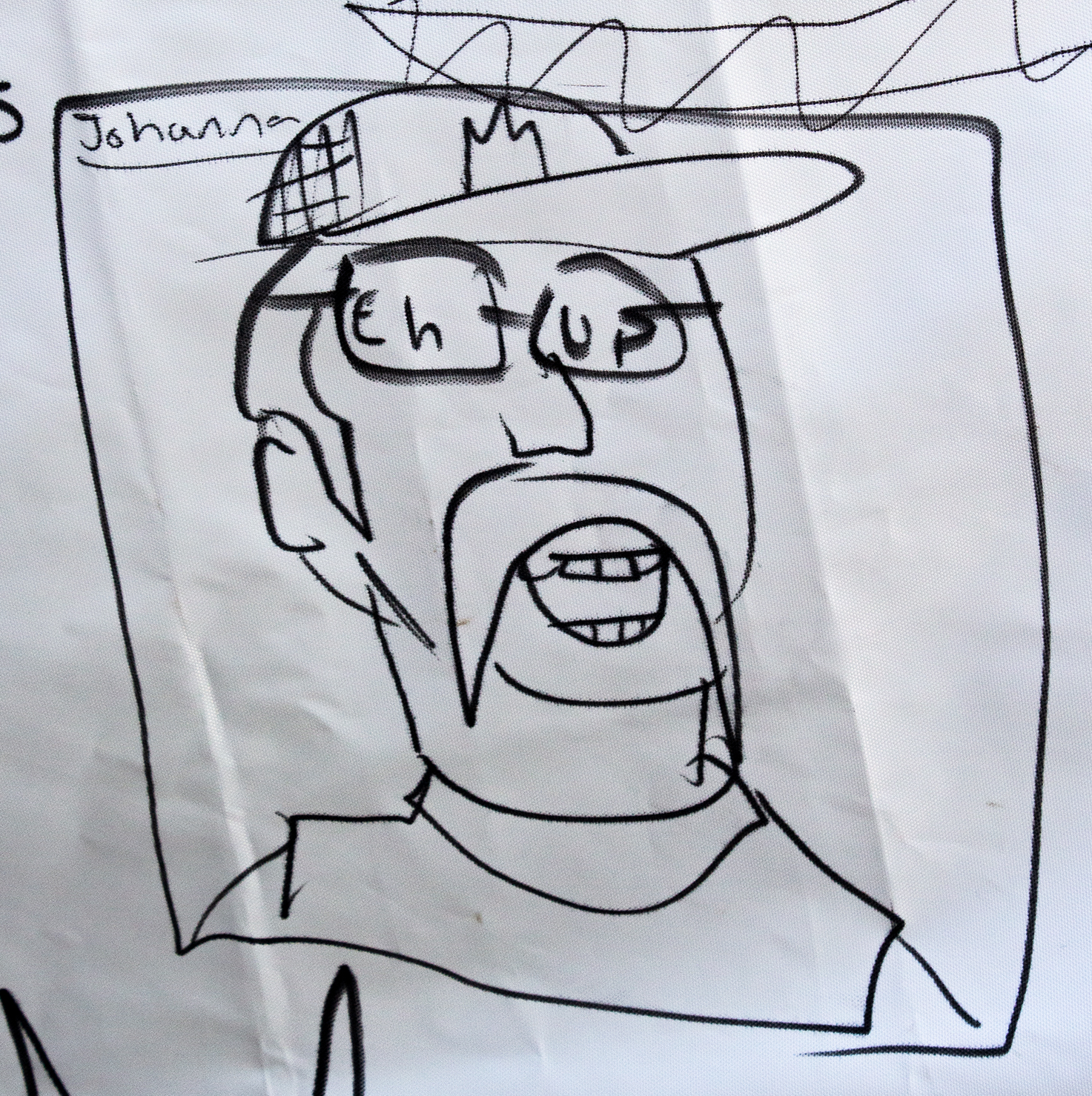 But let's give credit where credit's due! Some of the abstract creations were like the biking world's answer to avant-garde, a true masterpiece of… well, let's just call it artistic exploration. It was a delightful reminder that not every stroke of the marker leads to a masterpiece – sometimes they lead to giggles and a genuine appreciation for the creative process. 
And then there was Dylan, who turned out to be some kind of hidden artistic prodigy. Seriously, his mom pulled us aside to tell us he usually refuses to even pick up a marker! Who knew the Peaty's Whippet could be the key to unlocking a young artist's creative vault? Not to be dramatic or anything but we're pretty sure we saw Picasso do a double-take from beyond:
In recognition of his impressive artistic endeavour and his remarkable courage to step outside his comfort zone, we were delighted to surprise him with a well-deserved Ultimate Cleaning Kit!
All in all, our Peaty's art gallery wall was a hilarious rollercoaster ride of artistic triumphs and abstract explorations. So, hats off to everyone who contributed – whether you sketched like a seasoned artist or embraced an abstract interpretation like a modern-day trailblazer. Your efforts not only added to our gallery but sprinkled in a generous dose of laughter and joy, reminding us that at Crankworx, creativity knows no bounds, and art is a wheelie good time!  
We also gave away 5 Peaty's Ultimate Cleaning kits stocked with a bottle of LoamFoam, Degreaser, LinkLube, 2 brushes, and a microfibre cleaning cloth made from bamboo fibre, all wrapped up in a toolbox made from 100% recycled materials. Congratulations to our winners Robert, Erynn, Zach, Michelle, and Josh!
Topeak: Where Preparation Meets Performance 
"Prepare to Ride" was the mantra at the Topeak booth, featuring an impressive range of tools, pumps, fenders, bags, and accessories. Riders of all disciplines found their match among Topeak's offerings, from foldable work stands and Tubi Multi-Tools to class-leading pumps, and newly redesigned floor pumps.
The T Hex Speed Wrench Set stood out as a practical masterpiece that transcends functionality. With its sleek and elegant design, it's not just a tool; it's a piece of art that begs for a permanent spot on display in any workspace. This unique blend of practicality and beauty sparked conversations that celebrated the harmonious marriage of form and function, a hallmark of the Topeak brand as a whole.  
The BB Hide n' Tool, a cleverly designed tool concealed within a bottom bracket, and the Plug 'n Tool Mountain PRO, a multi-tool that fits seamlessly within a bike's handlebars, sparked curiosity and intrigue among attendees. Its ingenuity and practicality left riders excited about the possibilities for seamless maintenance during rides. 
Precision in every detail: The sleek Black Topeak Mini P20 Multi-Tool and the elegant Gold Tubi 18 Multi-Tool stand ready to tackle any trailside challenge. With their compact design and essential features, these multi-tools are the ultimate companions for every ride.
Crafted from lightweight aluminum, the TubiBooster X is a dynamic tool that serves as an air chamber and inflator head, holding a potent one-liter charge. Acting as a mini air compressor, it transforms any floor pump into a tire-bead seating powerhouse.
Precision in Your Palm: Introducing the TORQ ROCKET mini EX, your key to impeccable torque. This compact dynamo ensures your frame and components are tightened to recommended values for optimal safety and performance. Equipped with a reversible ratcheting head and a pocket-sized design, it's your go-to tool for tight spots, conveniently stashed in a jersey pocket for on-the-go repairs and trailside mastery.
In the spotlight, the Y-SPEED RATCHET takes center stage, a masterful 3-way ratchet tool flaunting its pro-level prowess. With a high-tensile strength, it tackles wear resistance head-on, extending its tool life and delivering unmatched leverage. Paired with the Power Lever X, these modular magicians transform from chain pliers to tire levers in a snap. Chain maintenance and quick flat repairs are a breeze, while the Presta core tool adds the finishing touch to this powerhouse duo. Also pictured: BB Hide n' Tool, Plug n' Tool Mountain PRO, Mini P20 Multi-Tool, and Tubi 18 Multi-Tool.
With excitement building, visitors had their eyes on the grand prize—the coveted Topeak Prepstand eUp bike stand. This prized addition to a rider's gear promises effortless bike maintenance and precise care. In this snapshot, the Prepstand eUp proudly displays the brand new Norco Fluid Carbon, adorned with a multitude of Topeak accessories:
Endura: Scottish Heritage, Global Excellence
Born in Scotland, Endura showcased purpose-built riding apparel, including a stellar collection of MTB shoes and a brand-new lineup of helmets. The MT500 series helmets stole the spotlight, boasting lightweight design, MIPS technology, and the Koroyd Core system for unparalleled safety. Participants reveled in the chance to win custom-painted MT500 Full-Face helmets, adorned with unique designs that epitomized the fearless spirit of mountain biking.
The custom painted MT500 Full-Face helmets stood as vibrant canvases. Each telling a distinct story of mountain biking passion and the audacity to push boundaries. These helmets were not just protective gear; they were individual expressions of the fearless attitude that defines the sport. 
One helmet paid homage to Endura's "FEAR.LESS" campaign, featuring the fierce honey badger, a symbol of unyielding courage. Its intricate detailing captured the essence of fearlessness that mountain bikers embody as they conquer challenging terrains: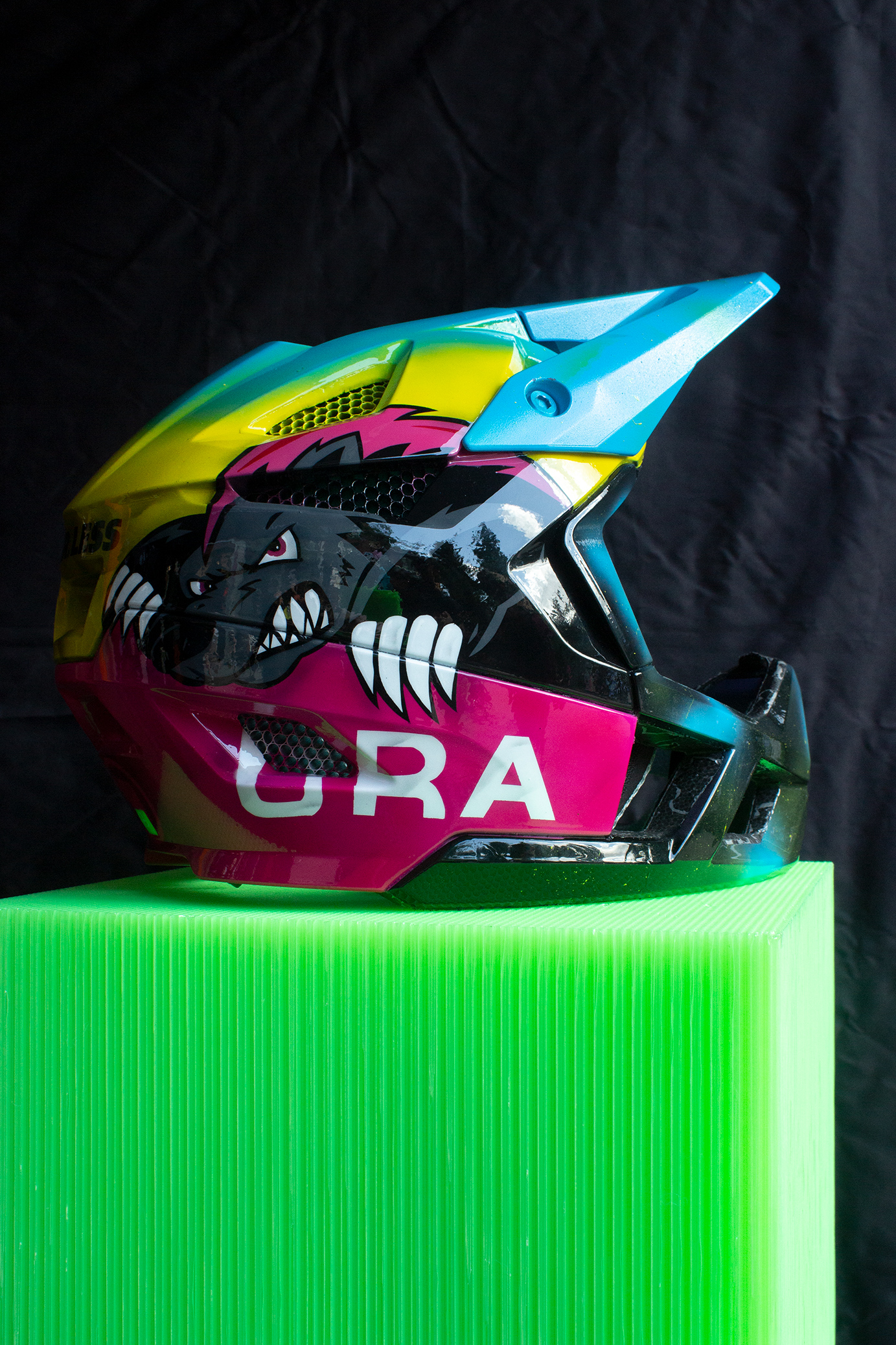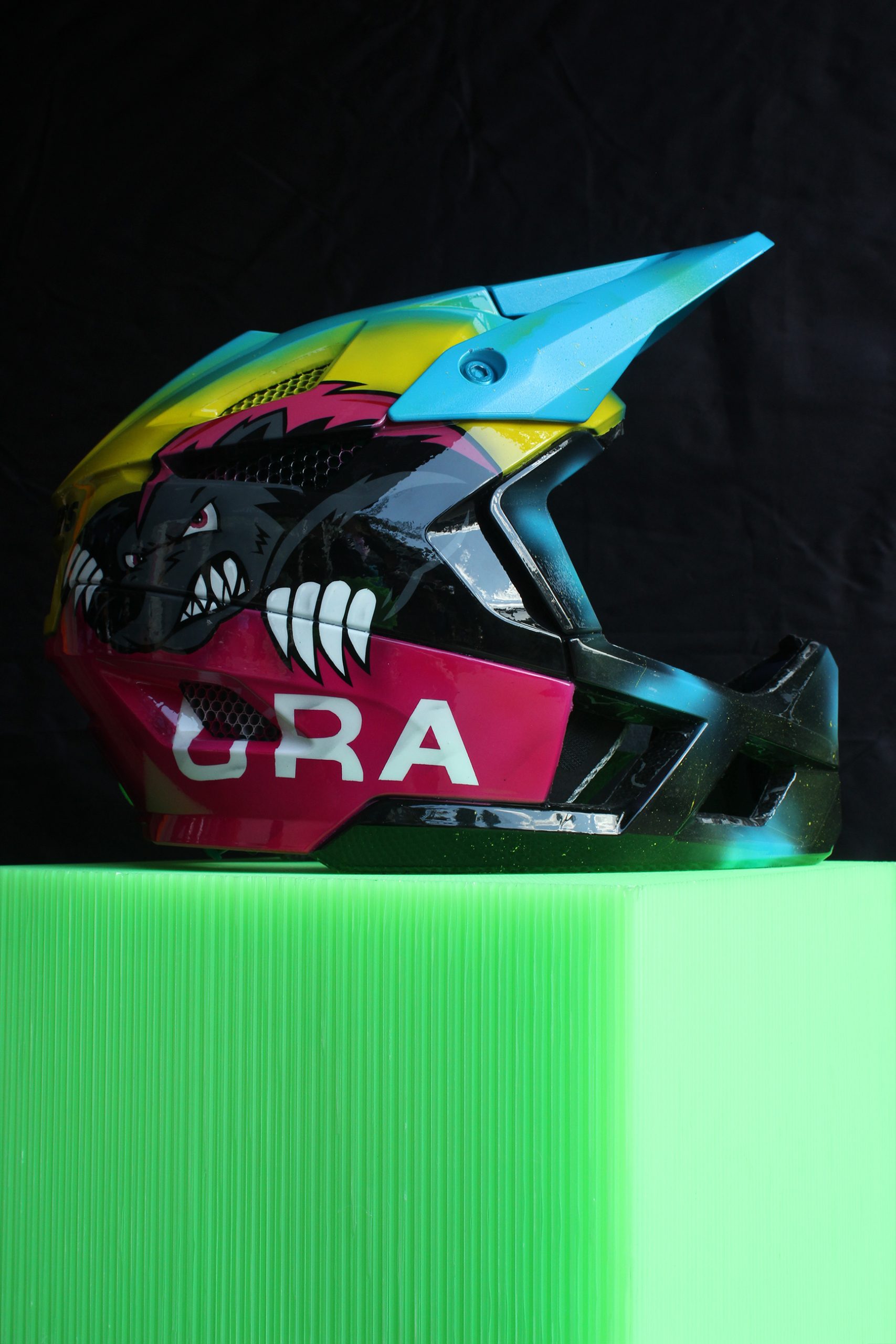 The second helmet was a true work of art. Wrapped with a hand-painted topographical map of Whistler, set against the backdrop of the iconic Endura logo and the "FEAR.LESS" insignia on the back. This helmet celebrated the harmonious dance between nature's beauty and the daring spirit of mountain biking: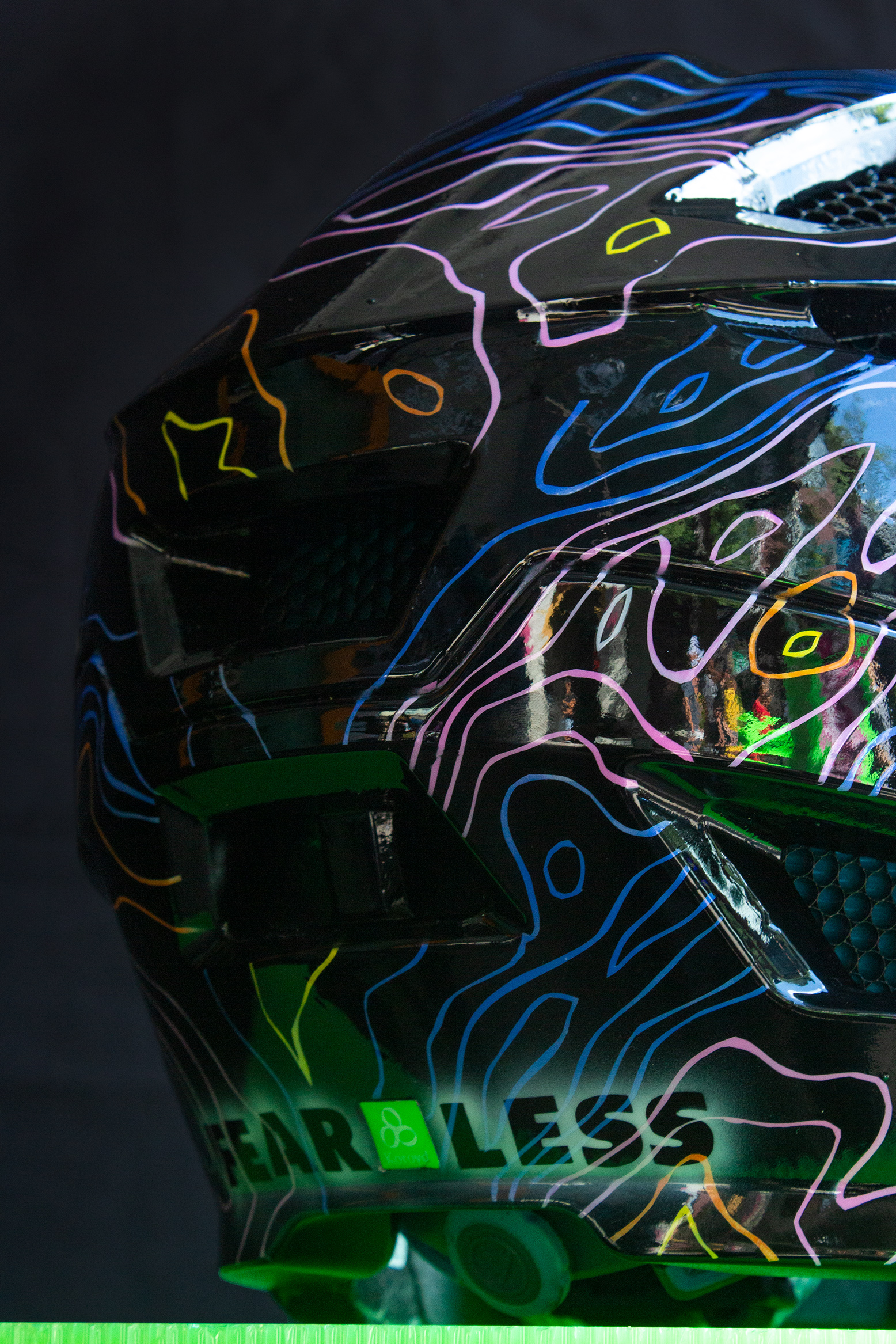 As attendees marveled at these masterpieces, it became clear that these helmets weren't just accessories; they served as a visual reminder that mountain biking is not just a sport; it's a lifestyle, a passion, and a drive to explore the unknown and conquer the unconquerable. Congratulations to the two lucky recipients who walked away with these one-of-a-kind helmets!
Yakima: Carrying Adventure, Anywhere
Yakima stood tall as the leading brand for car racks, offering an impressive array of solutions for outdoor adventures. From tray-style hitch mount racks to the revolutionary EXO hitch system, attendees explored versatile options.  
The Land Rover Defender Wolf, decked out with the Yakima SkyRise Rooftop Tent, EXO BaseCamp Kitchen, and the new MajorShady 270 awning, stole the show, embodying the ultimate camp setup:
Crankworx Whistler 2023 wasn't just about showing off the latest and greatest from our brands, but also about fostering a sense of community and knowledge-sharing. Our team of experts engaged with visitors, sharing insights and expertise to help riders elevate their experience to new heights. We're grateful to have been part of this unforgettable experience. We extend our heartfelt thanks to the organizers, participants, athletes, and attendees who made it truly exceptional.
As we bid adieu to another successful Crankworx, our passion for mountain biking burns brighter than ever. We look forward to the next edition, where we'll continue to bring the best of the biking world to enthusiasts from all around the globe.