Chris Perrin doesn't mess around when he's commuting to work on his Norco Search XR. Even when taking the road less travelled and dipping into the numerous gravel paths that criss-cross his route to work, his blinged-out carbon adventure bike flies. A pair of deep-section carbon wheels from 3T and some cyclocross racing rubber from Donnelly (formerly Clement) compliment Norco's laterally-stiff Search and help Chris put every watt to the road.
Chris made a few simple upgrades to his Search XR to help customize it to his specific needs. Chris' last bike was a Norco Tactic race bike, so he's used to moving pretty quickly. Looking for a gravel-friendly commuter that could still sprint like a race bike, he opted to upgrade the wheels to a pair of deep-section 3T C60 Discus carbon race wheels. While this upgrade might seem excessive for a bike that is primarily a commuter, Chris argues that their worth it in terms of fun and head-turning capability.
"The 3T C60 Discus wheels are an extravagant upgrade for sure, but worth every penny. They're so light and stiff that when I want to put the power down, they make the bike feel lively and super fast. It doesn't hurt that they look amazing too!"
-Chris Perrin
Chris runs an Ergon SR3 Pro saddle. The SR3 Pro is designed with carbon composite rails and shell to allow the saddle to flex with the rider for maximum comfort and minimal weight. The result is a saddle that can absorb the vibrations and bumps of gravel surfaces, without relying on excessive padding.
"The Ergon SR3 saddle is great for gravel riders, especially those looking for extra comfort without wanting a wider or more heavily-padded saddle. The SR3 fits me perfectly, and is comfortable enough for all-day adventure rides."
-Chris Perrin
A comfortable saddle should be complimented by comfortable bar wrap, so Chris wrapped his bars with 3T's Corius Team bar tape.
"The 3T Corius bar tape was easy to wrap, it's really comfortable and grippy, and comes with sweet looking bar ends. Would recommend."
-Chris Perrin
As if to assure onlookers that this really is a commuter bike, Chris has set his Search XR up with an Axiom Streamliner rack and Seymour Oceanweave P35 panniers. The P35's provide enough space for him to bring a change of clothes, lunch and anything else he needs for work. Given Chris' choice of an aerodynamic wheelset, he wanted to minimize aerodynamic losses when his panniers are on, so the smaller 35 litre bags were the clear choice. Chris opted for the Seymour series of bags because of their construction- Oceanweave fabric is currently the only pannier material on the market made from recycled fishing net.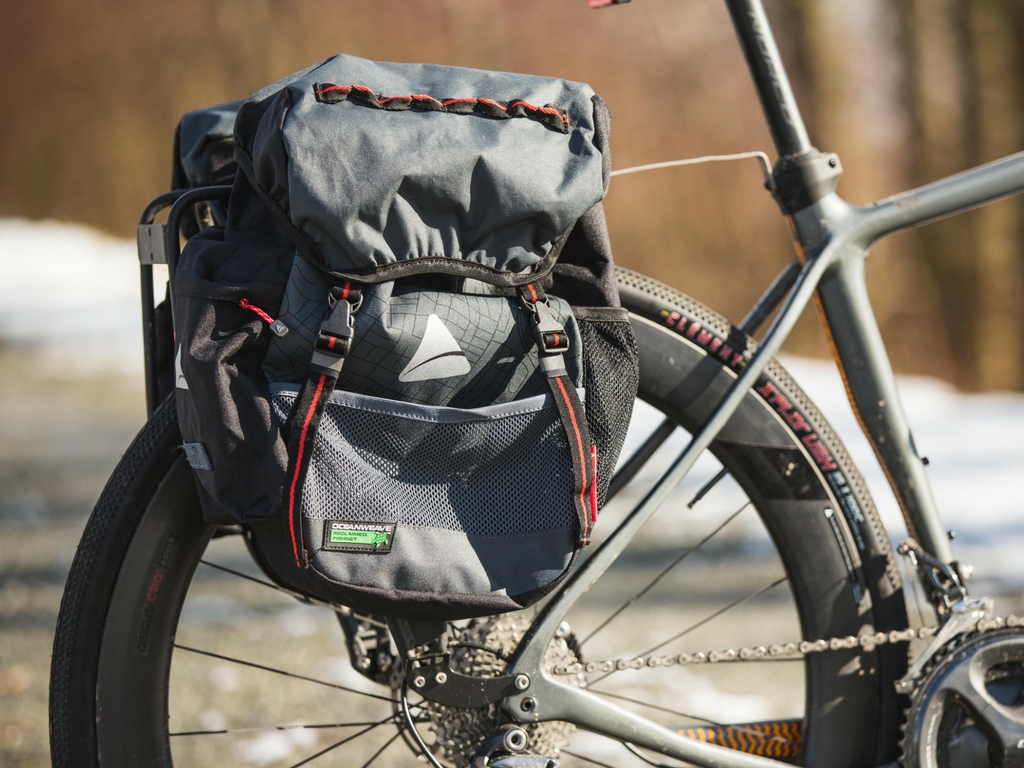 "Oceanweave is just cool, plain and simple. Who else is pulling fishing net out of the oceans to produce bike products?"
-Chris Perrin
As Chris explains, the move from Tactic race bike to Search XR gravel bike actually took time off his commute, as he can carry speed more efficiently over rough terrain, and feels more comfortable after long periods in the saddle. His advice for anyone considering making the move from car to bike commuting is that being comfortable on the bike makes it easier to ride predictably, and predictability is safety on the road.
All the components that Chris used to upgrade his Search XR are available through your local Live to Play Sports dealer.