The TRP Slate T4 is an awesome brake. I've been lucky enough to have a pair slowing down my Norco Optic, and they've been nothing but impressive. Singletracks.com recently gave the brakes a glowing review as well, noting the impressive bite power and ease-of setup that the brakes are becoming known for.
The Slate T4 gets its name from the 4 pistons that each caliper holds; easily enough power for long downhill descents. These are seriously confidence-inspiring brakes, even on really steep and technical descents. I've been able to test mine out in really wet and muddy west-coast conditions this winter, and found them definitely up to the task of keeping my impacts with stationary objects to a minimum.
The Slate T4 is a mineral oil brake. Mineral oil has several benefits over a DOT fluid, the most important in my mind being it's non-corrosive quality. Unlike DOT fluid, Mineral oil won't ruin paint and is safe for your hands, and thus it's much easier to work with. A good quality to have in a brake, especially one that ships with such long hoses; even on my XL frame I had to trim the lines down a little. Aaron from singletracks.com noted that he didn't need to bleed his Slate T4 when installing it, but mine did require a bleed after I shortened the line. The brake comes complete with new fittings, so you don't have to re-use any compression parts.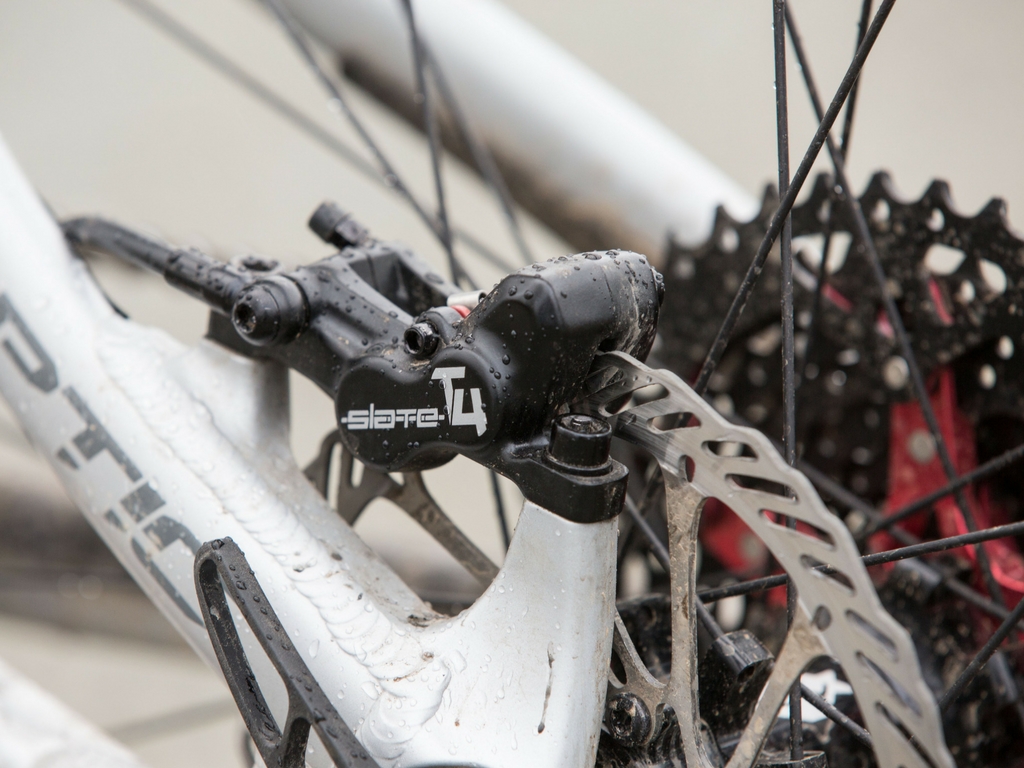 I've been using my Slate with a 160mm SRAM rotor in the rear and a 185mm in the front. I find the power has been good, but I'll likely go a step larger front and rear as the weather gets nicer, to try and dissipate the heat build-up from long descents on dusty trails.
---
TRP have designed a very impressive brake system with the Slate T4. If you are looking at a new set of brakes for your mountain bike, head to your local Live to Play Sports dealer to order yourself a set!
TRP Slate T4 Brake
LTP Part number: 250391-01 / 02
MSRP: $175.00 (per brake, does not include rotors)
---