Zone 4. The Pain Cave. 80-90% of MHR. Your Anaerobic threshold (the point at which lactic acid starts to accumulate in your muscles, and anaerobic processes become more dominant.) Everything sucks when you're in this zone, but training here will improve your lung capacity, endurance, and maximum power. Expect to spend less than 10 minutes at a time in this zone.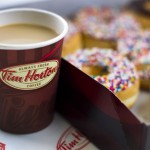 Zone 5. Redlined. 90% plus of MHR. Training here helps improve your blood circulation under stress, making you more efficient at higher power outputs. You've been here before. This is where you go when you're tearing the legs off your friends in a sprint, when that e-bike rider ahead of you is about to rue the day they were born, or when Tim Hortons is about to switch to the lunch menu and you're still six blocks away.
---
How to Use HR Every Day:
If you're already commuting to work, or riding regularly, keeping an eye on your heart rate can allow you to capitalize on that effort.
Commuting: Without a doubt, just being out on the bike is an awesome and worthwhile venture, and adding numbers to that isn't necessarily going to make a ride in traffic any more fun. That said, knowing that you are going to experience concrete results is a great motivation on those rainy days where the car seems so much more appealing. By staying within certain heart rate zones while commuting, you can ensure that every kilometer you pedal is doing the maximum amount of good for your health, while limiting the chances of you hurting yourself or wearing yourself out.
Recreational riding: For the recreational rider, the rides that you're already doing can be making you stronger, more efficiently, if you keep an eye on the zones you're riding in. We all know how easy it is to plan a fun, easy, relaxed afternoon spin, and end up way out in the middle of nowhere with no energy left because you've gone out too hard. Strap on a heart rate monitor and you can ensure you have an enjoyable time the whole ride through, and see additional training benefit as well!
Wahoo Kickr Trainer
Costs less than a year with a personal trainer.
LTP part number: 183525-01
---
We hope you found this guide useful, and see the value in monitoring your heart rate when you ride.  We suggest visiting the following sites for further reading!