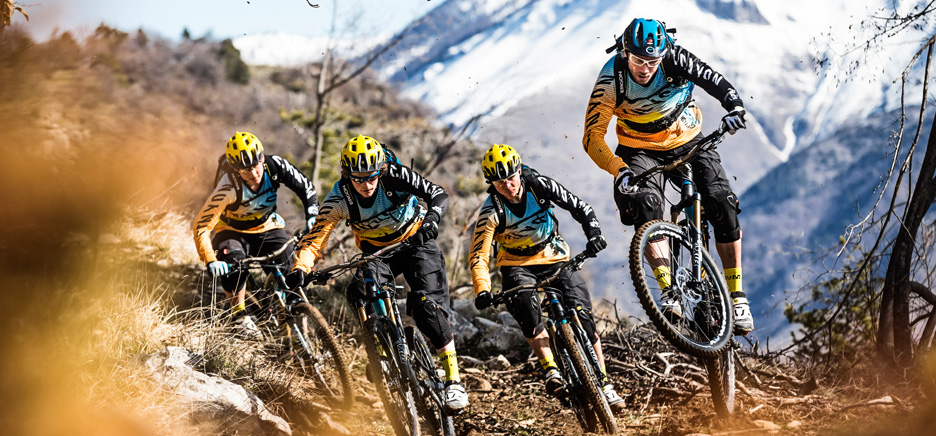 With Ergon its all in the name!
Ergon is all about ergonomics. The innovative company is elevating the bicycle accessories game by using a scientific approach as a basis for their designs. Each product they make is conceptualized and developed with anatomy, body position and riding style in mind.
Ergon's passion for anatomically sound and comfortable products have earned the company much deserved awards and media attention. For instance, their BE2 Enduro Backpack won the 2016 Design and Innovation Award. The Ergon CF3 seat-post also appeared as the clear winner in Bike Radar's seat-post comparison, outshining all competitors in every test category. And Matt Wragg's recent Pinkbike article Inside Ergon explores the complex process involved in making their mountain bike saddles.
Excerpts from Pinkbike.com:
"We don't know of any other company that starts their product development for a saddle with a medical model of the hip girdle – complete with nerves, blood supply and musculature, yet this is precisely where Janina starts"
"Dr. Kim Tofaute and Janina Haas (also a sports scientist) work closely together for the initial development of Ergon's saddles. Janina's background is in anatomy and sports technology, and she applies this expertise to understanding precisely the body's relationship to the contact points of the bike."
"With that understanding of the anatomy, the next step is to put people onto their stationery bike and to start to gather data on what the movement of pedaling actually looks like. It is no ordinary stationary bike, though, it's not like the ones in your local gym, rather this bike can be adjusted and adapted to mimic the exact riding position of a given bike. While the grey object being placed on the saddle may look like an uninteresting saddle cover, it is, in fact, a highly sophisticated pressure sensor. This then relays that data live to the attached computer so Janina can see exactly where and how the body puts pressure on the site through each pedal stroke. This data means they can then adapt the form to minimise areas of high pressure which would lead to discomfort and provide support in the precise places it is most needed."
Select the right saddle For you!
The right saddle can make or break your ride but it is hard to know which one to get without trying it. It is also next to impossible to know which one to try first! Ergon has taken out the guess work with their Saddle selector.
Are your cleats in the Proper Position?
Ergonomics is so ingrained into their company philosophy that they created cleat fitting kits for most brands of pedals. The kits allow you to achieve an optimal set up for Crank Brothers, Look,Shimano mountain, Shimano road or Speedplay pedals. It makes installing pedals straightforward and precise, which is great for beginner and elite athletes alike.
Watch: ERGON TP1 Cleat Tool from ergonbike on Vimeo.
To find out more about Ergon visit Ergon-bike.com
Or find an Ergon dealer near you!