A curated list of the best bike lights with the needs of every rider – and their budgets – in mind.
There are tons of options and features to consider when it comes to illuminating your ride, however, individual preference, need, and riding style will determine which feature is most important, so we've broken our picks down into a few different categories. Each light below has something unique to entice riders, whether it be a budget-friendly price point, superior illumination, versatile mounting options, waterproofing, or extended burn times for those extra long-distance riders.
Headlights
Top Picks At-a-Glance
Magicshine
RN 3000
Magicshine
Monteer
8000S
Galaxy
Magicshine
Monteer
6500S Zeus
Serfas
E-Lume 1000
Magicshine
ALLTY400
49N
Ultra
Doppler
49N
Super
Doppler
MSRP
$279
$599
$499
$120
$55
$25
$13
Lumens
3000
8000
6500
1000
400
38
7
Max Runtime
62 hours
32 hours
40 hours
90 hours
7 hours
9 hours
103 hours
Waterproof Rating
IPX6
IPX5
IPX5
IPX4
IPX7
IPX3
IPX3
Battery Recharge
✔
via USB-C
✔
via USB-C
✔
via USB-C
✔
via microUSB
✔
via USB
✔
via USB
✘
Weight
279g
517g
431g
175g
85g
50g
30g
Top Pick Overall: Magicshine RN 3000
With an MSRP of $279, the Magicshine RN 3000 is certainly pricier than some of the other lights on this list, but from a price-to-performance perspective, this product stands at #1 on our list by a longshot.
With two super bright LEDs offering a maximum output of 3000 lumens, up to 62 hours of runtime, and a waterproof rating of IPX6, the Magicshine RN 3000 is truly in a league of its own. As pointed out in Cycling News' review, "there are other lights on the market that can match the spec but none of them at this price point" and hailed this light as the "king of the self-contained lighting market". Click here to read the full review on Cycling News' site.
Rather than charging via a microUSB like some of the other lights on this list, Magicshine has equipped the RN3000 with a USB-C fast charging and discharging port, meaning that the unit can also be used as a charging bank for your phone, computer, or GoPro. Having adopted the universal Garmin quad-lock style mounting mechanism, installation and removal is incredibly easy and can be done in seconds.

Part number: 203511-01
---
High-Performance Pick:
Magicshine Monteer 8000S Galaxy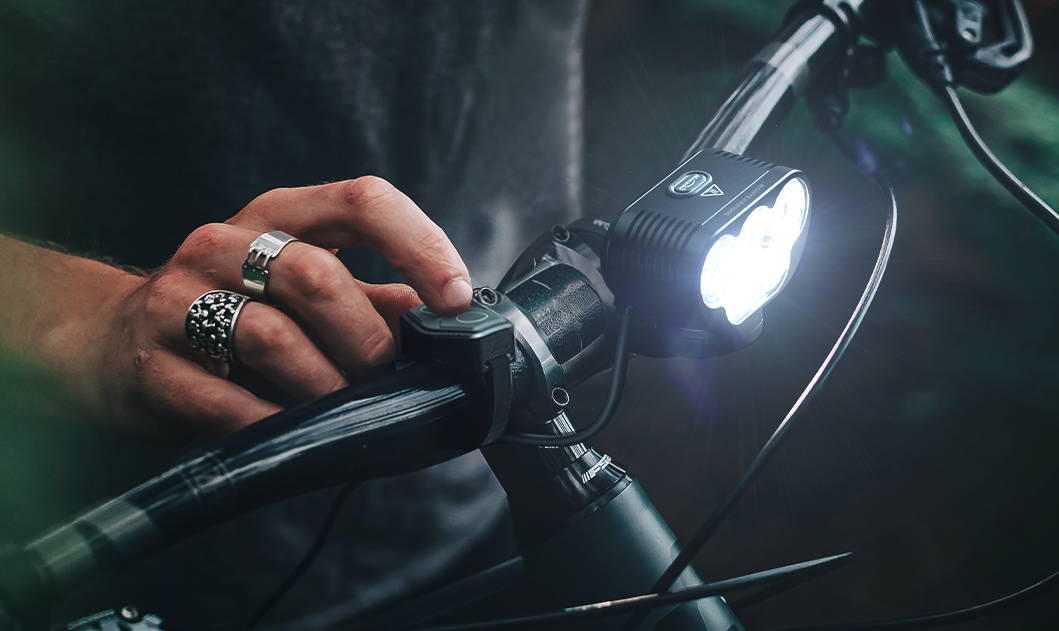 Magicshine has been a frequently-seen top-pick when it comes to lights because they consistently offer high quality, reliable lights with exceptional beam patterns, immense power, and superior features that you would normally find on lights with a much higher price tag.
At $599, it certainly isn't the cheapest option out there, but for those nocturnal riders and serious enthusiasts out there, you know that a high-quality light is essential. A light that's too weak or a 10,000-lumen spotlight with a poor, inconsistent beam pattern will leave you equally as frustrated and vulnerable to hazards. Together, 8000 lumens, five top CREE LEDs, and combination of 32-degree and 21-degree beam angles deliver a perfect balance of flood and spotlight beams to deliver an ultra-powerful, one-stop-shop for conquering the fastest, gnarliest, most challenging trails with astonishing performance. Various lighting modes only further cements this light as the ultimate addition for all kinds of adventures, whether it be downhill, MTB, trail crossing, enduro, or backcountry.

Part number: 203700-04
---
High-Performance Runner-Up:
Magicshine Monteer 6500S Zeus
With reviews like the one by Alex Evans from Bike Radar, who described this headlight with terms such as 'magical', 'exceptional', 'unparalleled', and 'virtually unbeatable', the Monteer 6500s Zeus light by Magicshine has big expectations to live up to, and it does so with ease.
Let's be honest – being 3x as bright as most car headlights, some might say that the 8000 lumens on the Monteer 8000S Galaxy is a little bit excessive. That's why we've got the 6500S Zeus as our high-performance runner-up. Although less blindingly powerful, the 6500S will still let you enjoy the most aggressive night riding experience without sacrificing any of the quality or features as seen on the 8000-lumen model.
Like the 8000S and the RN 3000, this device also comes with a Garmin quad-lock style mount, is charged via USB-C which can also be used as a power bank for your other devices, and is housed in aluminum casing with a built-in smart thermal control system to allow for efficient heat transfer and protect the unit from becoming overheated.

Part number: 203700-03
---
Mid-Level Pick: Serfas E-Lume 1000
Redesigned for 2021, the E-Lume Series headlights were created with overall performance and rider safety as a top priority. An all-new optical lens was designed to create powerful illumination from the front and the extruded aluminum housing contains front corner cut-outs to allow for increased visibility from the side without impacting the quality of forward illumination or beam pattern.
With an MSRP of $120, this is a much more accessible option for those who don't want to spend quite as much as they would on the previous two Magicshine options. If you're looking for a daytime running light, or 1000 lumens is just a little too much, the E-Lume series is also available in 350 and 600 lumen options.

Part number: 175702-02
---
Best for Commuters & Urban Riders:
Magicshine ALLTY 400
The Magicshine ALLTY 400 might be ultra mini, but it packs a big punch. Like the RN-series, the ALLTY is equipped with a USB-C charging port, meaning faster charging times than its microUSB counterparts. Offering 400 lumens and 89 metres of visibility, this is a great choice for urban riders and daily commuters wanting to stand out a little more on the road.
The ALLTY series features a high efficiency optical lens with side lighting to enhance rider visibility while in busy traffic. The optical lens has been designed with vertical cut-off points to create an anti-glare beam which limits the exposure of the main LED into the eyes of oncoming traffic.
For more power, the ALLTY series also comes in 600, 800, 1000, and 1500 lumen options.

Part number: 203500-01
---
Entry-Level Choice: 49N Ultra Doppler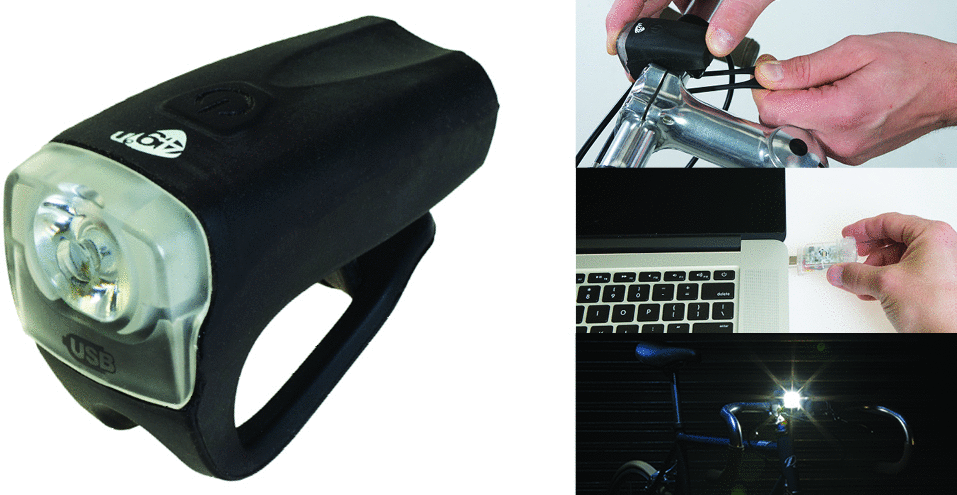 Part number: 175010-01
---
Budget Pick: 49N Super Doppler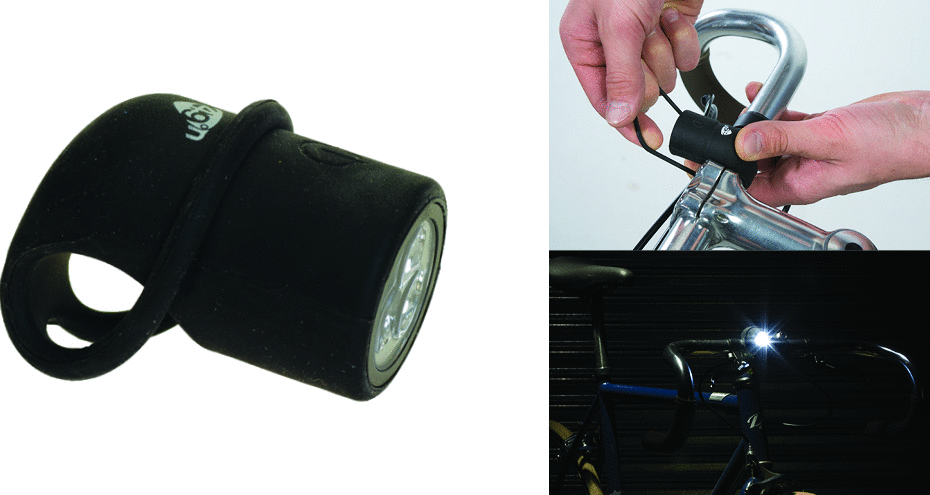 If you're looking for a light to simply improve your visibility without needing USB to charge, then the Super Doppler from 49N is a good choice. This basic model offers 7 lumens, 2 light modes, up to 103 hours of burn time, and requires two CR2032 button batteries.
This model is also offered in a rear tail light version, with 4 lumens, the same 2 light modes, but up to 112 hours of burn time.

Part number: 175015-01
---
Combo Sets
Top Picks At-a-Glance
Topeak
Powerlux Combo
Topeak
Headlux Dual
Topeak
WhiteLite/RedLite
Race Combo
49N
Doppler Combo
MSRP
$65
$59
$53
$20
Lumens
100/25
140/10
25/15
8/3.5
Max Runtime
40 hours
33 hours
140 hours
343/270 hours
Waterproof Rating
IPX6
IPX6
IPX6
IPX3
Battery Recharge
✔
via USB
✔
via microUSB
✘
✘
Weight
32g/30g
40g/40g
40g/37.6g
40g/pair
Top Pick: Topeak Powerlux Combo
The Topeak Powerlux Combo is a small, albeit powerful light set intended for urban cyclists who aren't looking to illuminate completely unlit roads, but rather just need to be highly visible to others.
The 100-lumen headlight and 25-lumen rear light that can both last for up to 40 hours, and when it comes time to recharge, the lights conveniently plug directly into a USB port – meaning no cables to carry around (or lose). Continuing the theme of being an incredibly convenient set, the silicone straps allow the lights to be mounted onto nearly any handlebar and seat post combination in only a few seconds.

Part number: 177556-01
---
Best for Commuters & Urban Riders: Topeak Headlux Dual USB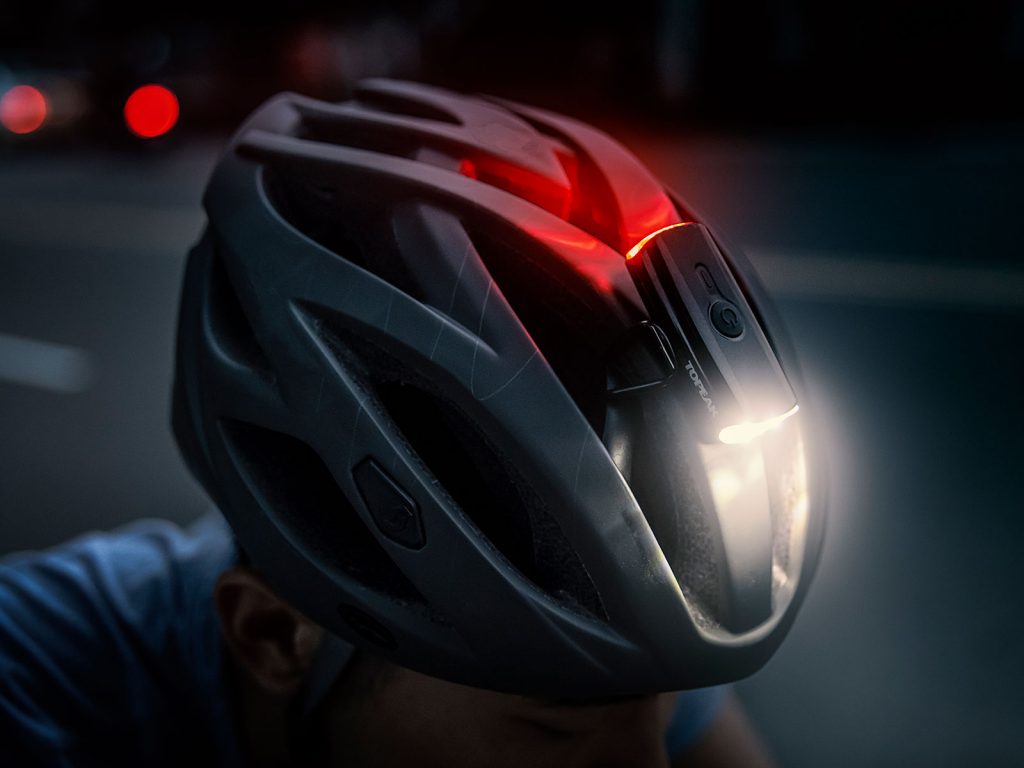 Ride safe and be seen at night with this innovative, high-performance helmet-mounted option that shines white light forward and red towards the rear. The double-sided construction features 4 LEDs – 2 front and 2 rear – for excellent visibility while the rubber straps make installation flexible and easy. With 140 lumens in the front and 10 in the rear, this is a great choice as a daytime running light for urban riders looking to improve their visibility to others on the road in a convenient, all-in-one device.
Entry-Level Choice:
Topeak WhiteLite/RedLite Race Combo
A high quality, reliable, no-frill light set that doesn't rely on a rechargeable battery or tools for installation, the WhiteLite & RedLite Race Combo is a solid choice for urban riders looking to catch drivers' attention and improve visibility while on the road.
The lens doubles as a switch, making it incredibly easy to operate and means no more fumbling around in the dark looking for a button. Not having an external, dedicated switch means that the electrical components most vulnerable to water are shielded away deep within the housing, improving the unit's ability to withstand the weather.

Part number: 177518-01
---
Budget Pick: 49N Doppler Combo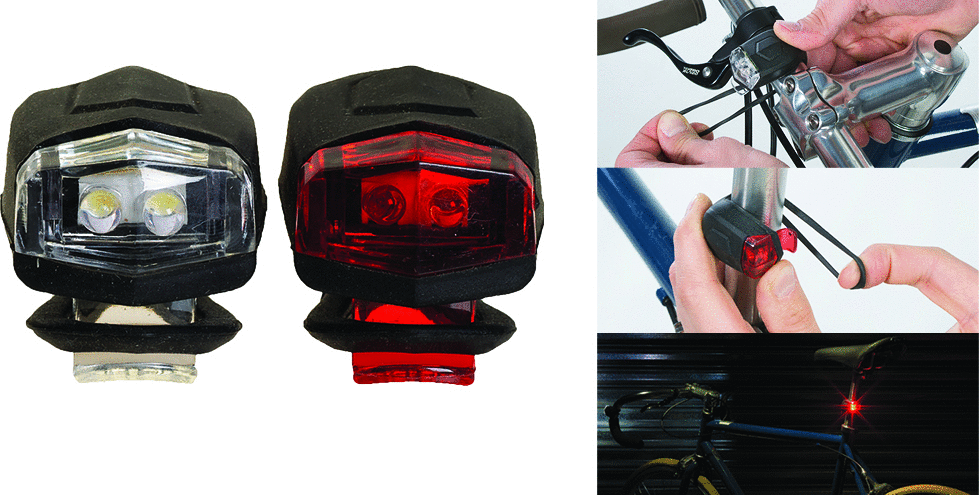 The most basic option of the Doppler series is this Doppler Combo from 49N. Perfect for providing quick mount visibility thanks to the versatile, silicone, multi-mount body and more than 200 hours of burn time, this combo makes it easy to improve rider visibility and safety for very extended periods of time.

Part number: 175020-10
---
Rear Bike Lights
Top Picks At-a-Glance
Magicshine
Seemee 30
Magicshine
Seemee 100
Serfas
E-Lume 30
Magicshine
Seemee 20
49N
Wazoo
MSRP
$65
$33
$36
$29
$12
Lumens
100
30
30
20
5
Waterproof Rating
IPX6
IPX5
IPX4
IPX7
IPX3
Max Runtime
62 hours
75 hours
90 hours
7 hours
9 hours
Rechargeable
✔
via USB-C
✔
via USB-C
✔
via microUSB
✔
via USB-C
✘
Weight
279g
431g
175g
85g
50g
Top Pick Overall: Magicshine SeeMee 30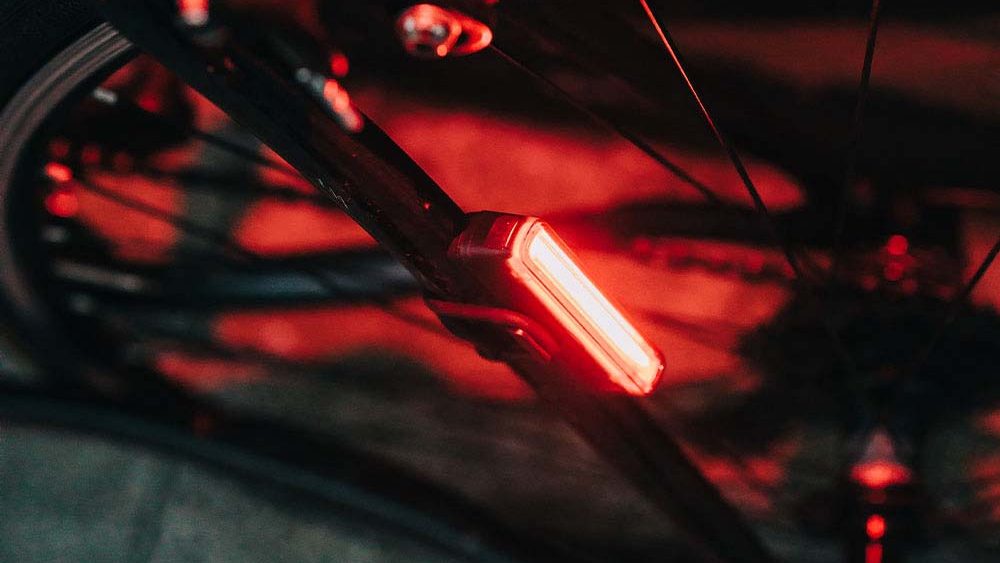 The Seemee 30 is a 24g featherweight taillight perfect for urban cyclists. With 30 lumens at maximum power, an ambient light sensor to make sure you're always most visible, 230 degrees of visibility, up to 40 hours of burn time, and a low-power mode to efficiently extend run time, the SeeMee 30 is another example of Magicshine placing rider safety at the forefront of their design and packing powerful features into their products.
Offering more efficient lighting performance than traditional lights encased in red plastic, the translucent anti-scratch case offers superior side visibility and allows riders to be seen from up to 800 metres away.
Designed with safety in mind, the ambient light sensor will automatically adjust light output according to the surrounding environment, increasing rider safety both at night and during the day. When the battery drops below 5%, the device will automatically switch to economic flash mode, which extends burn time for an additional 20 minutes.

Part number: 203810-01
---
High-Performance Pick: Magicshine SeeMee 100
The Seemee 100 is the impressive big brother of the SeeMee family. Although it weighs a mere 12g more than its' 30-lumen counterpart, don't let the small size fool you, this phenomenal light offers impressive performance and next-level safety features for riders of all kinds.
As we've mentioned before, Magicshine is known for packing features in unexpected places and this light is no exception. Like the 30-lumen option, it has an ambient light sensor that'll adjust output accordingly to changing environments, a low power mode that provides an extra 20 minutes of burn time, memory function, and versatile mounting options. However, the SeeMee 100 has taken safety a step further with smart motion sensors that – when sudden changes in speed are detected – will trigger a constant beam of 100 lumens that are then flashed for 3 seconds, a very useful feature for when traveling on the road or on busy city streets.
Part number: 203840-01
---
Best for Commuters & Urban Riders:
Serfas E-Lume 30
Boasting a 30-lumen max output, 270 degrees of wide-angle visibility, five lighting options including daytime, high, and low flash along with two solid modes, the Serfas E-Lume 30 is a great, basic taillight choice that ensures you'll be seen by other road users. The low flash mode will provide riders with up to 34 hours of illumination and can be charged using the provided cable.
Serfas has also released a 60-lumen option that includes all of the features listed above but is best suited for those looking for some extra brightness.

Part number: 175678-02
---
Entry-Level Choice: Magicshine SeeMee 20
This ice cube sized taillight is the entry level model of the Seemee series, offering 20 lumens of light, maximum burn time of nearly 22 hours, centrally-located power button which can be operated even while using gloves, and 180-degrees of visibility. Riders can choose from three brightness levels among one solid and two flash modes, which provides just enough visibility for motorists, pedestrians, and other cyclists without being too bright.
A super lightweight option coming in at only 17g, the SeeMee 20 is a great choice for those urban and casual cyclists who might not need as many features as the 30 or 100-lumen model.

Part number: 203800-01
---
Budget Pick: 49N Wazoo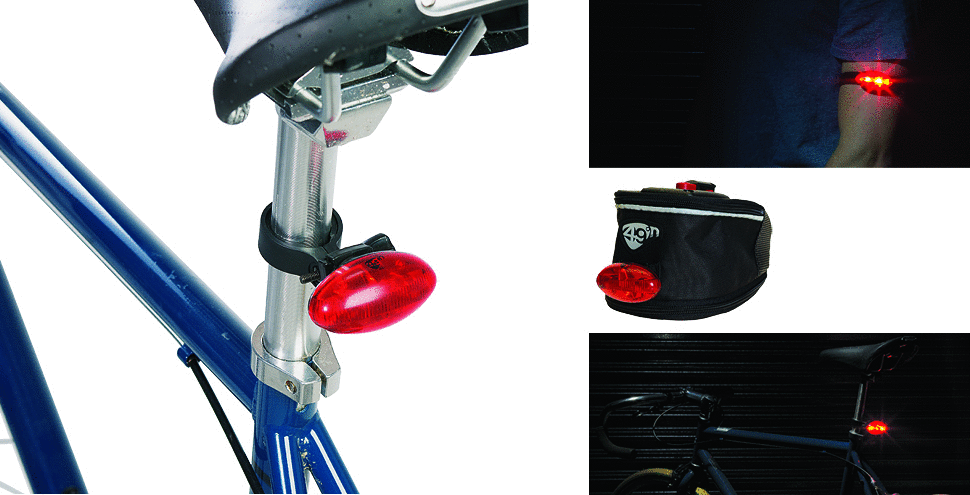 Including an integrated clip mount, elastic arm band, and seat post mount makes the Wazoo taillight by 49N an incredibly versatile option that can be attached to virtually anything. Three light modes provide a max output of 5 lumens and around 111 hours of burn time.
With an IPX3 waterproof rating and requiring two CR2032 button batteries, this is a great option for those looking for something basic, who don't want to rely on USB charging.

Part number: 175025-01